Welcome Page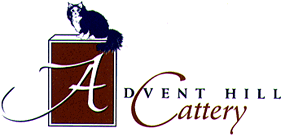 At Advent Hill Cattery we emphasize health and a loving disposition as well as correct type and size. We handle each Maine Coon, British Shorthair, and Norwegian Forest kitten with gentleness and love from birth onward to ensure that, whether they are destined for the show ring or to be treasured family pets, they will be loving and confident. We will sell no kitten until it has had sufficient time to develop its personality as a cat and receive its immunizations. We feel that the wait is a small price to pay to ensure that the new owner receive a healthy, well-adjusted cat. For a breed that remains kitten-like its whole life, a few weeks extra is not so important.
We specialize in shipping our cats all over the world. We only sell our kittens by reservation and only to approved homes. If you are interested in acquiring one of our beautiful, happy cats we welcome your inquiry.
Advent Hill Cattery has been awarded the CFA Cattery Certificate of Excellence and the International Cat Association Certificate of Excellence as well. Our cattery is feline leukemia negative and all our kittens come with a health certificate issued by a veterinarian and a health guarantee.
Advent Hill Cattery is a respected member of CFA, TICA, ACFA, CFF. Advent Hill Cattery is also a member of the Maine Coon Breeders Fanciers Association.